Precision Cone to Hank Winder har ett elektroniskt garnstyrningsformningssystem, vilket gör formlängden intelligent justerbar. Det är bekväm att använda olika rörlängder och enhetligheten i formningsdensiteten för garn kan garanteras. Intelligent styrning med digital programmering säkerställer den exakta utformningen av garn med höghastighetslindningen samtidigt.

Precision Cone to Hank Winder används för FDY, DTY och andra ultrafina denier och kemiska trådar, för att exakt vinda på täckmaskinen eller två-till-en-vridningsmaskin för användning av luftbeläggning och vridning.
Precision Cone to Hank Winder, Stabiliteten hos garnformning kan garanteras för antagandet av intelligent konstant spänningssystem och automatiskt spårningssystem för övermatning. Detekteringskontrollsystemet och det enkla spindellängdsberäkningssystemet garanterar enhetligheten i garnproduktionen. Utrustad med Styrning med enkel spindel, garn kan laddas och lossas fritt. Det minskar strömförbrukningen och ökar flexibiliteten vid drift samtidigt.
Tekniska parametrar
Machine form

Double-sided one layer, vertical spindle, 12 spindles per section

Winding form

Digital or precision parallel winding

Spindle distance

300 mm

Transmission

Single spindle drive

Number of spindles

60 spindles / station

Line speed

600-1200 m / min

Winding process

100 mm-160 mm

Close side angle

0 ° -60 °

Rated power

300 W / spindle

Suitable raw materials

FDY, DTY

theoretical output of a single spindle in 24-hour

Line speed * time (minutes) * 24 hours * D number




9000000
Skiss ritning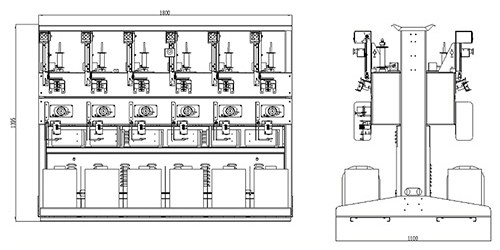 Produktkategorier : Vridningsmaskin > Hank Reeling Machine